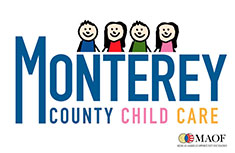 A group of dedicated, local partners have developed new tools to better access child care related resources including a new website, Monterey County Child Care, providing free child care referrals through the MAOF Resource and Referral program.
Those in search of child care can submit a form including location of where care is needed in Monterey County and during which hours and then immediately receive a list of licensed childcare providers that meet these requirements.
Family care needs can be met through a number of search functions, including specifying special needs of the child, days that care is needed, weekly schedule, and school pick-up and drop-off. Additionally there is information for parents, families, and providers about quality child care and other resources for caregivers and children.
A special thank you to the Childcare Accessibility Information Systems project team for their amazing work!
Stay tuned for ongoing expansion of features and functions on the website. This project aligns with the Bright Beginnings strategy to transform systems to increase access to child care on the Monterey Peninsula. Click here to learn more.