¡Mujeres Saludables, Familias Saludables, Comunidades Saludables!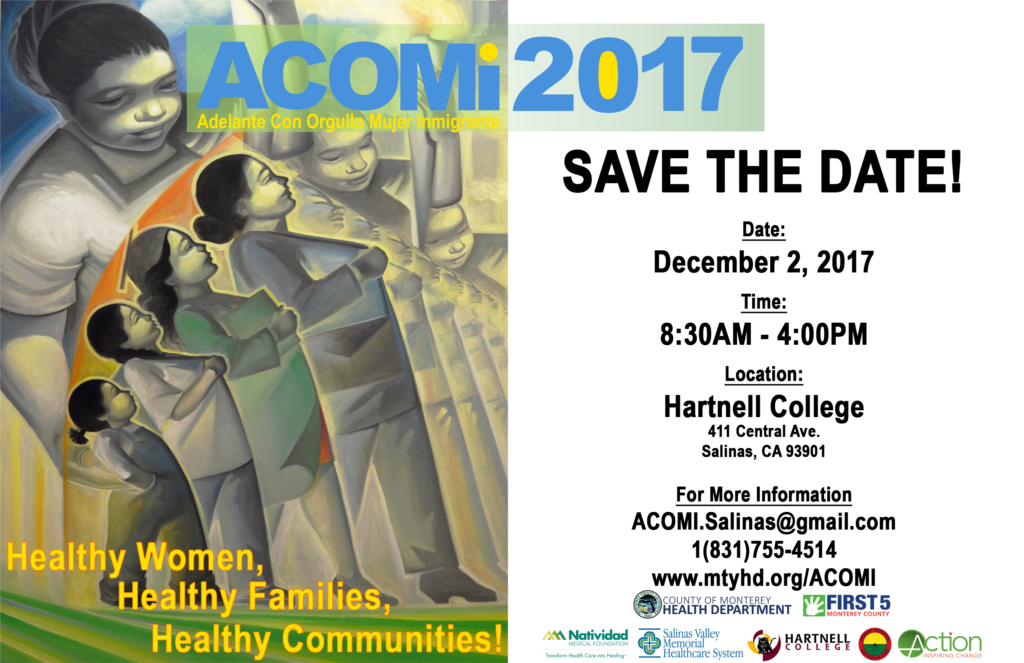 The sixth annual Adelante Con Orgullo Mujer Inmigrante (ACOMI) women's health conference is being held Saturday, December 2nd from 8:30am to 4:00pm at Hartnell College. This free conference is specifically for Spanish-speaking immigrant women.
"The conference emphasizes the important role of prevention in overall health and well-being" said Angélica Chávez, ACOMI Planning Committee Member. "This is a day for the women to focus on themselves and have the opportunity to learn more about resources available to them and their families."
WHO: Spanish-speaking immigrant women of all ages!
WHEN: Saturday, December 2nd from 8:30am to 4:00pm
WHERE: Hartnell College
411 Central Ave
Salinas, CA 93901
There will be all-day educational activities for children and youth as well as transportation for those in need.
This year's keynote speaker is Santa Cruz County Entrepreneur of the Year, Sindy Hernandez de Cornejo. Workshops scheduled cover topics from women's health to immigration to education. The day ends with a wellness fair.
"The theme, ¡Mujeres Saludables, Familias Saludables, Comunidades Saludables! sums up the conference." said Chávez. "If the woman is healthy, it is easier for the family to be healthy and healthy families make healthy communities."
You can find more information here: www.mtyhd.org/acomi
SPONSORS + SUPPORTERS:
Monterey County Health Department
First 5 Monterey County
Migrant Education
Natividad Medical Foundation
Salinas Valley Memorial Healthcare System
Hartnell College
Action Council
Trader Joes
Challenge Dairy
Taylor Farms
Tai Chi for Health Institute
Urban Arts Collaborative
Loaves, Fishes and Computers
Monterey Salinas Transit
Alliance on Aging
The Blind and Visually Impaired Center of Monterey County
Organic Girl
Home Depot
Orchard Supply Hardware
Food Bank for Monterey County
Niky's Sudaderas
Covarrubias Shoes
Mercado Mi Rancho
Isabella's Fashion
Princess House
Color Spot Nurseries
Decoraciones Santa Ana
Safeway